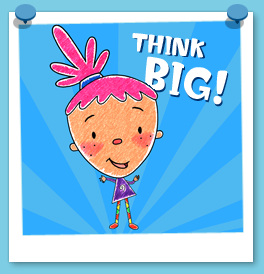 Pinky Dinky Doo harnesses the power of television, print, and interactive media to promote reading and imaginative storytelling. To achieve this, Pinky invites children to participate in funny and fantastic stories, games, and songs that support critical early literacy skills.
The series has four primary goals. It aims to:
Celebrate the power of inventing and sharing stories.
Pinky showcases the storytelling process, demonstrating to children that stories come from ideas in people's heads. It shows children that they can use their imaginations to create their own wonderful and surprising stories.
Introduce basic narrative elements.
Pinky's stories and games call attention to the following elements:
Characters (what are people's names, characteristics, and roles in the story?)
Dialogue (who said what?)
Main ideas (what happened and where did it happen?)
Sequence of events (what happened and when did it happen?)
Details
Provide opportunities to use effective listening comprehension strategies.
The more time children spend reading, being read to, and talking about what they read, the more they are able to think about and understand stories they hear. Pinky's stories are designed to:
Engage viewers in the language and interaction surrounding the stories.
Promote children's ability to listen, think along, and learn.
Expand vocabulary through stories.
Listening to stories is an effective way to build vocabulary. Pinky's stories and games:
Focus on the meaning of words and concepts within the context of the story.
Feature fun activities containing rhyme, rhythm, and alliteration.